College of Business Administration

Bachelor of Science in Management
College of Business Administration
Overview
College of Business Administration is a member of the Association to Advance Collegiate Schools of Business (AACSB). AACSB accreditation represents the highest standard of achievement for business schools in teaching, scholarship, and community engagement worldwide; CBA energetically, continuously meets, and follow AACSB international accreditation standards.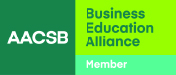 Mission
The mission of the Management Department is derived mainly from the grand vision and philosophy of the University and the College of Business Administration. The department aims at providing students with excellent education and professional practice in various areas of management via a rigorous academic program that promotes critical thinking, interpersonal skills, technical competence and above all ethical and moral principles and practices.
Goals
To equip students with in-depth knowledge of contemporary management theories, concepts, principles, and practices relevant to the business and management careers in the twenty-first century.
To develop students' creative and critical thinking and problem-solving skills necessary for the identification, analysis, and resolution of a wide range of business and management problems.
To develop students' ability to apply information technologies that is necessary to facilitate business and management decision-making processes.
To equip students with appropriate communication, teamwork, motivation, leadership, and research skills suitable in the business and management environments.
To enable students to identify and utilize decision-making techniques and skills that meet professional, ethical, and socially- responsible standards.
Admission Requirements
A minimum High School Average of 70% for Advanced or Elite Track or 75% for General Track or equivalent in Standardized International Certificates.
EmSAT score of 1100 for English Language or an equivalent English Proficiency Test approved by the CAA.
EmSAT score of 600 for Arabic Language. Alternatively, international students can register for a non-credited Basic Arabic Language course at the University.
EmSAT score of 600 in Mathematics or equivalent.
Passing a personal interview set by the College of Business Administration in addition to other conditions of admission set by the University.
Conditional admission can be allowed for not achieving the Arabic Language EmSAT score but not for English Language or overall High School Certificate
Career Opportunities
Management is the art of getting things done by others. Hence, the need for future managers never stops, particularly for those who are equipped with the latest managerial knowledge skills and the ability to think analytically.
The Bachelor of Science in Management program has been carefully crafted to meet market demands qualitatively. The program is intended to produce graduates who will be efficient and effective managers able to achieve organizational objectives. USTF management graduates have been well received in the job markets of the UAE and other Arabian Gulf countries for their outstanding teamwork, and creative and management leadership skills.)
Career opportunities for the Bachelor of Science in Management include:
Administration and Operations.
Project Management (Executive Level).
Enterprise Management.
Human Resource Management and Development.
Customer Management.
Data Management and Systems Analysis.
Sales and Marketing.
Production / Supply Chains / Logistics Management.
Communications Management.
Strategy and Strategic Management
Graduates of the management program at USTF are capable to pursue advanced research studies and have a full capacity to join graduate programs.
Graduation Requirements
Students will be awarded the Bachelor of Science in Management degree upon fulfillment of the following requirements:
Successful completion of 126 credit hours, which normally takes eight semesters.
16 weeks of industrial internship, after the completion of 96 credit hours including seven management core courses, which is equivalent to three credit hours.
A minimum Cumulative Grade Point Average of 2.0.
A student must graduate from the program during a period no longer than 8 years.