Office of Alumni
Office of Alumni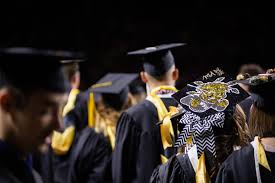 Vision
Ensuring a lifelong communication between USTF and its Alumni domestically and among the globe.
Mission
Serving the best interest of USTF graduates and to promote communication and strengthen the bonds among them and their alma mater.
Values
Fraternity
The Office of Alumni strives to enhance and foster bonds of solidarity and camaraderie among its members.
Commitment
The Office of Alumni endeavors to instill in its members a sense of commitment to the Alumni Community and to USTF.
Volunteering
The Office of Alumni aims to instill in its members a strong sense of social responsibility through community-centered volunteer work.
Excellence
The Office of Alumni considers excellence as one of its major goals. The office sets several policies, processes and tools to achieve these goals, maintains a solid interconnection and provides excellent services to USTF graduates.
Objectives
Develop communication between the University and its alumni on one hand, and among the alumni themselves on the other hand, in accordance with the University's philosophy and vision.
Establish and foster a basis of lifelong professional and personal relationships between the University and its alumni.
Develop and promote the Office within the university and engender goodwill, understanding and support for the university in the wider community.
Provide the alumni with opportunities to contribute to and participate in the decision-making process at the University through platforms that allow them to express their viewpoints.
Engage the alumni with various events and activities, as well as provide them with several services.
Services
Build and maintain USTF alumni Database.
Expand alumni privileges network.
Organize related workshops and Alumni gathering events.
Conduct annual surveys in coordination with Ministry of Education.
Issue Alumni Identification Cards
"If you are one of our graduates and wants to update your contact details, please click on the following link"
https://forms.gle/yhVe1jyAaeCKda8QA
Person In charge
Tarek Diaaeldin Shahin
Phone EXT
+97192023445